Hawaii County Civil Defense interactive map of roadblocks, subdivisions, and eruption fissures: hawaii247.com/lavamap

USGS Resources related to the 2018 Kilauea Lower East Rift Zone eruption and Summit Activity

Kīlauea Eruption Information Resources: www.hawaiicounty.gov/lava-rela…

Crowdsourced Kilauea Eruption lavaflow map here.
Kilauea Eruption Update

This video was taken on the June 3 7AM HST helicopter overflight, hovering offshore and looking up the flowfront. Nearly all of the front was active and advancing; advance rates were estimated at an average of 250 feet/hour (76 m/hr), and as of 7AM the flow was 500 yards (457 m) from the ocean.

USGS Hawaiian Volcano Observatory status of Kilauea volcano in Hawaii on June 3, 2018. On camera: Jessica Ball, USGS Volcanologist
This is a Civil Defense Message for 6 p.m., Sunday, June 3, 2018.
Hawaiian Volcano Observatory reports active lava eruptions in Leilani Estates and Lanipuna Gardens. Fissure 8 continues to feed a large channelized flow traveling downslope to Kapoho. The flow is about a half-mile wide and is about 400 yards from the ocean.
Due to lava crossing Highway 137 and approaching the ocean, the following policies are in effect:
There is no access to Kapoho and Vacationland as Highway 132 and Highway 137 is closed due to lava inundation.
Be aware of the laze hazard should lava hit the ocean and stay away from any ocean plume to prevent harmful health effects.
All areas abutting Highway 137 between Four Corners and Isaac Hale Park have been ordered to evacuate.
On roadways:
Government Beach Road, between Kahakai Boulevard and Papaya Farms Road, is open only to Waa Waa and Papaya Farms Road residents with official credentials. There is no curfew.
Volcanic gas emissions, including sulfur dioxide, are high in the fissure system and Lower East Rift Zone. Residents in the area and downwind should take precaution to limit exposure.
Stay alert to warnings from Civil Defense officials and be prepared to evacuate with little notice.
Shelters at Pahoa Community Center and Kea'au Armory are open and pet-friendly.
The Pahoa Post Office is open during normal business hours with temporary Sunday hours from 10 a.m. to 2 p.m. for mail and package distribution only for residents in the affected areas. No retail services on Sunday.
For your safety, heed warnings from Civil Defense officials and stay alert.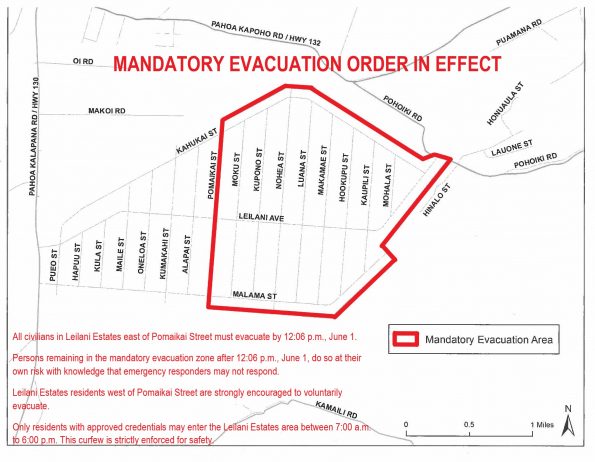 Due to the lava entry at the ocean, the following policies are in effect:
Access to the area is prohibited due to the laze hazard.
Stay away from any ocean plume since it can change direction without warning.
The U.S. Coast Guard is actively monitoring the ocean entry area and enforcing a 300-meter standoff zone. Only permitted tour boats are allowed in the area.
Health hazards of laze include lung, eye and skin irritation.
Be aware that the laze plume travels with the wind and can change direction without warning.
Get the latest Vog Predictions here: mkwc.ifa.hawaii.edu/vmap/
Sulfur Dioxide (SO2) and Vog
Volcanic gas emissions remain elevated throughout the area downwind of the vents in lower Puna.
Severe conditions may exist such as choking and inability to breathe.
Sulfur Dioxide (SO2) gas from fissures are especially dangerous for elderly, children/babies and people with respiratory problems.
County, State, and Federal partners continue to monitor the situation. You will be informed of any conditions that affect your safety.
Monitor vog levels and forecasts: People on Hawaii Island outside the area of volcanic activity are also advised to monitor levels of vog at vog.ivhhn.org
The residents of Puna are going through a very difficult time. We ask for your help and understanding.