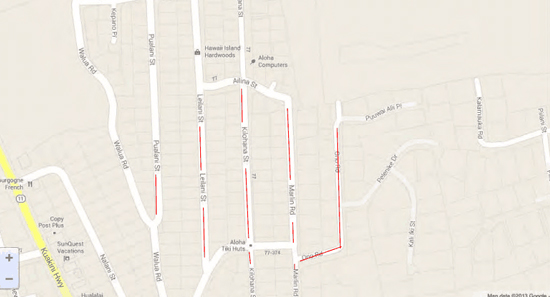 MEDIA RELEASE
Residents on St. John's Road and in Sunset Terrace are advised of possible delays due to county road resurfacing starting Monday, July 1.
Highway Maintenance crew prepped the shoulders, removing foliage along the roads scheduled for resurfacing.
Paving will be done between 7:30 a.m. and 4:30 p.m. weekdays, excluding July 4.
One-lane closures are anticipated due to trucks and equipment working on these narrow roads.
Residents are asked not to park on the shoulders in their neighborhood during the roadwork.
Scheduled Work:
* July 1-2: 2,500 feet of St John's Road will be resurfaced starting from the Church.
* July 2, 3, 8-12: Road resurfacing in Sunset Terrace will start at the top and work downhill. Ono Road and the Puuwai Alii Place intersection; Marlin Road from Ailina Street; The length of Kilohana Street from Ailina Street; and Leilani Street at Ailina Street, and Pualani Street starting at Walua Road.
The southern section of Kahakai Road starts and a section of Kohanaiki Road are scheduled for resurfacing in July.
Roadwork is contingent on weather conditions and may change. Message boards are posted in the neighborhood with the roadwork schedule.