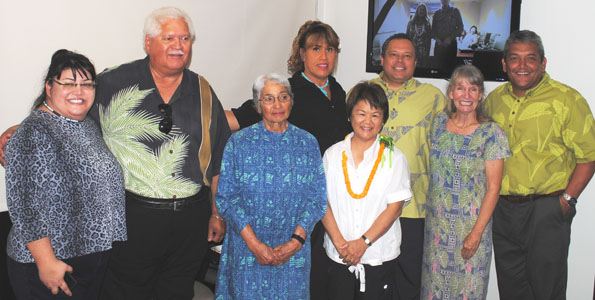 MEDIA RELEASE
Mayor Billy Kenoi recently administered oaths to members of the first Hawaii County Cultural Resources Commission.
This commission advises the county on protection, preservation and perpetuation of historic and cultural resources on Hawaii Island.
Modeled after similar boards on Kauai and Maui counties, it will provide a forum for public education and discussion on how to promote Hawaii Island's heritage and ensure that new development is compatible with historic resources, and be consistent with guidelines in the National Historic Preservation Act for Certified Local Governments (CLGs).
"I thank all of the members for giving of their precious time to serve on this important commission," Kenoi said. "The members, with their incredible wealth of experience and wisdom, will be of great service to the people of Hawaii Island."
Ronald N. Dela Cruz lives in Waimea and is a member of the Royal Order of Kamehameha. He has served on the Hawaii Island Burial Council and North Hawaii Public Safety Committee.
"The preservation of Hawaiian culture, history, and ancient rituals have always been my passion," Dela Cruz said.
Deborah L. Chang is a resident of Paauilo and has a master's from the University of Hawaii at Manoa. She has studied Hawaiian Language and has been active in the protection and perpetuation of historic Hawaiian trails and cultural sites adjacent to the trails.
"I grew up in Moku o Keawe, and my ethnicity reflects Hawaii's multi-ethnic heritage," Chang said. "By protecting our unique historic and cultural resources, we keep this heritage alive for present and future generations."
Lily Dudoit is a resident of North Kona and graduate of Konawaena High School. She attended UH Hilo and Pima Community College in Arizona. She currently is the Director of Cultural and Leisure Activities at the Sheraton Keauhou Bay Resort and Spa.
"I am interested and committed to learning and perpetuating my Hawaiian culture, and educating others," she said.
Dudoit is a member of the Na Lei O Kaheloku Hula Halau and has been mentored by cultural practitioner Lily Kong.
Nicole K. Lui also known as Keaka, is a resident of Kona in the Ahupuaa of Holualoa 2 makai. Lui has experience in cultural monitoring, archaeology, genealogy, re-internments, dis-internments and data recovery.
Her life experiences in Hawaiian culture can be seen in this quote: "Na wai hoi ka ole oke Akamai He ala nui I ma'a i'a e ou mau makua." (Who would not be wise on the path so well-traveled by our ancestors."
Barbara "Bobbie" Meheula is a resident of the South Kona ahupuaa of Hoopuloa near Milolii. She is an accomplished floral designer and served as Executive Director of the Hawaii Foundation for History and Humanities. She grows taro, coffee, and numerous fruit trees on her farm, has an agricultural heiau on her property, and is a revered kupuna who has worked extensively with former Hawaii Govs. John Burns, George Ariyoshi and John Waihee.
Maile Melrose grew up in Kealakekua mauka and is a lifelong resident of West Hawaii, with a particular interest in Kona's history. She is a historian who received her Bachelor's degree in anthropology from Vassar College in New York and educated in Hawaiian Studies at UH-Manoa.
"For the past 20 years, I have been associated with Kona Historical Society doing living history performances, interviewing long-time residents, writing down special stories," Melrose said. "It makes me realize how fortunate I am to live in such a special and beautiful place, with a rich and fascinating history."
She has also served as a member of the Daughters of Hawaii and the School Community Council of Konawaena Elementary School.
Boone Morrison is a resident of Volcano and married to Tamara Laulani Wong-Morrison. He received his degrees in architecture and history from Stanford University. He lived in Milolii for two years and is conversant in the Hawaiian language.
Morrison is also a photographer and studied under Ansel Adams. As a federally certified Historic Preservation Architect, Morrison has experience not only on Hawaii Island, but also restored more than two dozen properties on Kauai, and has worked on Maui as well.
"I feel it is vital that we identify and preserve our cultural and historic assets for future generations," Morrison said.
Alapaki Poai Nahale-a is an educator and received his degree from the University of Pennsylvania and graduated from Kamehameha Schools. He is a resident of Pepeekeo and is married to Shelby Kahele Nahale-a. He currently is the Director of Community Programs for Kamehameha Schools. President Obama appointed him to serve on the Presidential Scholars Commission.
"It's humbling to be a part of this important new commission with such an amazing group of people," Nahale-a said. "I'm confident we will take this work seriously and move forward, aware of our kuleana to past, present and future generations."
Christine Wada is a resident of Kailua-Kona and received her Master's in Education from the University of Hawai'i at Manoa, undergraduate degree from University of California at Santa Barbara, and her Secondary Teaching Credentials from California State University at Hayward (now Cal State East Bay).
She has professional and personal involvement as a culture-based educator. Wada is an active in the community, and stated this commission is "a novel, exciting experience as a volunteer in government service."
She is also a member of the Japanese-American National Museum, Kona Daifukuji Mission, Alpha Delta Kappa, and Hawaii State Teacher's Association (retired).