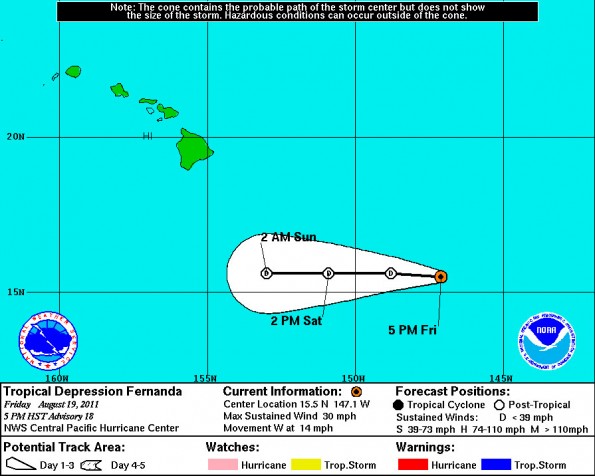 Updated 5:30 p.m. 8/19/11
The Central Pacific Hurricane Center reports that Fernanda is now a remnant low system.
At 5 p.m. HST the remnant low, which was Fernanda, was located about 615 miles East-Southeast of South Point Hawaii. The maximum sustained winds have reduced to 30 mph with higher gusts. The system is moving West at 14 mph.
The CPHC put out its last public advisory on the system at 5 p.m. HST as the system is far South of the Big Island.
Moisture North of the system is forecast to bring humid conditions and rain to the Big Island possibly as soon as Saturday afternoon. The current forecast is for possible heavy showers on the Big Island's windward areas during this period until late Monday night or early Tuesday morning.
Hawaii County Civil Defense Message
For a presentation Hawaii 24/7 filmed on how Tropical Cyclones are formed and fall apart visit: