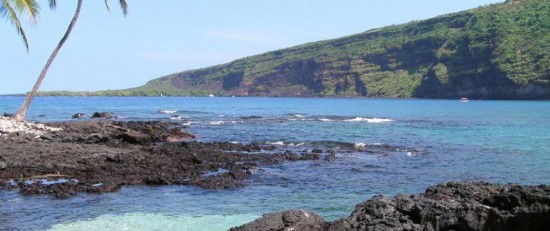 MEDIA RELEASE
Kealakekua Bay Napoopoo Pilot Ambassador Project
Tuesday Sept. 7, 5:30-8 p.m.
Konawaena High School Cafeteria
81-1043 Konawaena School Road, Kealakekua, HI 96750
The Department of Land and Natural Resources (DLNR) is holding a community meeting to discuss management plans for Kealakekua Bay. "Over the decades of planning, there is overwhelming consensus among the divisions and community in support of establishing a Ranger Position at Kealakekua Bay. However, the State budget will not support this kind of position for at least several more years," said Laura H. Thielen, DLNR Chairperson.
"Given the consensus that an immediate presence is needed for visitor education and monitoring of the bay, the Department proposes to establish a 3-year pilot project for an ambassador program at Napoopoo Landing within Kealakekua Bay," Thielen said. "The purpose is to contract the desired presence for the area and evaluate the viability for offsetting the costs of an ambassador-type program by allowing limited commercial business."
Meeting Schedule
Why propose this Pilot Ambassador Project?

Years of complaints due to conflicts between resources protection, high visitor use, and various user groups.
State has determined it is necessary to maintain a regular presence at Napo'opo'o to ensure the safety of people and the protection of natural and cultural resources in the Bay.
Goals of the Pilot Ambassador Project?

Provide immediate and sustained presence at Napo'opo'o Landing.
Protect the natural and cultural resources of Kealakekua Bay through increased education to visitors on proper etiquette when visiting the area.
Enhance the use and enjoyment of recreational opportunities at Kealakekua Bay.
3-year pilot project to assess the viability of limited commercial activities supporting a sustained presence at Napo'opo'o Landing to enhance management of Kealakekua Bay.
Why allow any commercial activities?
Tried a volunteer project at Napo'opo'o Landing to educate and monitor activities, and it was not sustainable.
Now trying pilot project with permission for specific and limited commercial activities to provide support for sustaining an Ambassador Program.
What are the Ambassador responsibilities?

Provide immediate and sustained presence with professional and courteous employees.
Support enforcement by reporting any improper behavior observed in the area.
Orientation & Education Area of no more than 400 sq. ft. to provide optional educational briefing to all public at Napo'opo'o Landing. Mandatory briefing for customers.
Maintain Visitor Greeting Area of no more than 200 sq. ft. near gate entrance.
Assist all people launching/landing watercraft in addition to their customers.
Report daily monitoring and collection of visitor data to DLNR on a monthly basis.
Unlock/open the gate no earlier than 6am and close/lock at completion of business.
What are the limited activities to support dedicated Pilot Ambassador Project?
Commercial operations only permissible between 8am and 4pm daily.
Payments accepted only at the Orientation & Education Area, including merchandise sales.
No more than 18 kayaks for rental. Required to post price list of rentals and merchandise.
No loud noise that would disturb the quiet enjoyment of the surrounding area.
No signs without DLNR approval and placement only allowed at the Visitor Greeting or Orientation & Education Areas.
No overnight storage at Napo'opo'o and Day Storage Area of no more than 600 sq. ft.
Community Discussion

What do you think of the pilot project?
What do you think of the goals? Anything to add? Anything to Remove?
How would you evaluate the pilot project?
What do you think of the Ambassador"s responsibilities?
Are the limits sufficient or are they too little or too much?
Any other questions or comments?