MEDIA RELEASE
WASHINGTON, D.C. – The U.S. Consumer Product Safety Commission, in cooperation with the firm named below, today announced a voluntary recall of the following consumer product. Consumers should stop using recalled products immediately unless otherwise instructed. It is illegal to resell or attempt to resell a recalled consumer product.
Name of Product: Notebook computers
Units: About 233,000
Manufacturer: Sony Electronics Inc. of San Diego, Calif.
Hazard: The computers can overheat, posing a burn hazard to the consumer.
Incidents/Injuries: Sony has received 30 reports of units overheating resulting in deformed keyboards and casings. No injuries have been reported.
Description: The recalled products are VPCF11 Series and VPCCW2 Series notebook computers. The computers are available in many colors and have "VAIO" on the front outside panel. The model numbers can be found on the bottom of the computers.
The following models are included: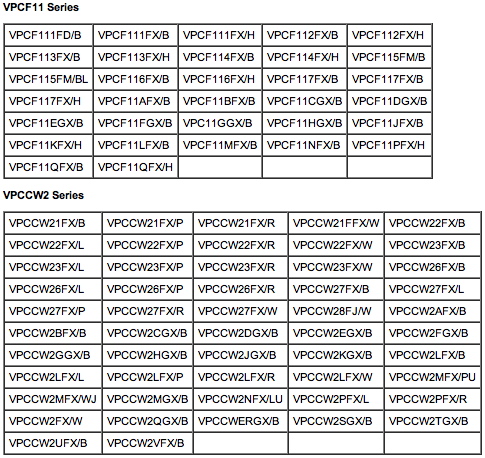 Sold at: Best Buy, Costco, Frys, Amazon.com and Sony Style retail stores and sonystyle.com as well as other electronics retailers and business suppliers nationwide. The recalled computers were shipped to consumers and resellers between January 2010 and April 2010. They sold for between $800 and $1,500.
Manufactured in: China and the United States
Remedy: Consumers should immediately go to esupport.sony.com/US/f1cw2upda… for instructions on how to update the computer's BIOS firmware. Consumers can also call Sony or visit Sony Style retail stores nationwide for help with installing the update. This firmware will prevent the computer from overheating. The firmware update will also be available through the VAIO Update software program installed on the recalled computers. A prompt will appear when users log on.
Consumer Contact: For additional information, please contact Sony toll-free any time at (866) 496-7669 or visit the firm's website at esupport.sony.com/US/f1cw2upda…
CPSC is still interested in receiving incident or injury reports that are either directly related to this product recall or involve a different hazard with the same product. Please tell us about it by visiting www.cpsc.gov/cgibin/incident.a…