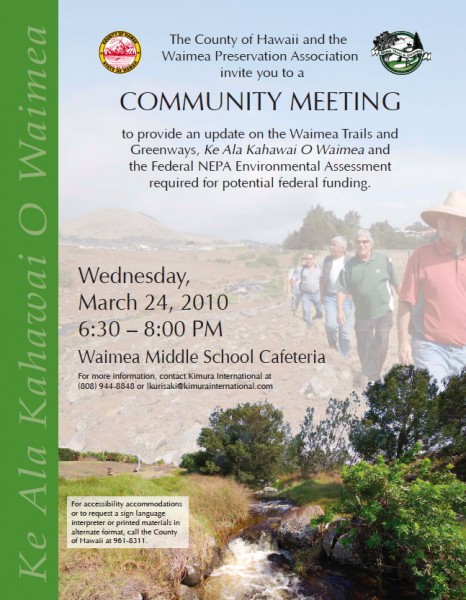 Waimea Trails and Greenways
Ke Ala Kahawai O Waimea
Community Meeting on Wednesday, March 24, 2010
On behalf of the County of Hawai'i and the Waimea Trails and Greenways (WTG) Committee of the Waimea Preservation Association, we cordially invite you to attend a community meeting for the Ke Ala Kahawai O Waimea project, on Wednesday, March 24, 2010, 6:30 to 8 PM at the Waimea Middle School cafeteria, 67-1229 Mamalahoa Highway in Waimea.
The purpose of the meeting is to provide an update on the Environmental Assessment (EA) being prepared in compliance with the National Environmental Policy Act (NEPA), which will enable the project to seek federal funding. As part of the NEPA requirements, alternative routes must be evaluated and potential linkages addressed in the EA. Your input on these issues is welcomed.
The Ke Ala Kahawai O Waimea project will create a green corridor through the heart of Waimea along the Waikoloa Stream and will provide an accessible, connecting pathway between residences, businesses and schools. The trail will extend along the stream from South Kohala View Estates on the west through Waimea Nature Park (Ulu La'au) to Church Row on the east. Completion and approval of a NEPA EA will allow the project to tap a variety of funding programs available from several federal agencies, including the Federal Highway Administration (FHWA).
We hope to see you at the meeting, and would appreciate it if you would inform others. For more information, please contact me or Leslie Kurisaki at (808) 944-8848, lkurisaki@kimurainternational….
For accessibility accommodations for this meeting or to request a sign language interpreter or printed materials in alternate format, please contact Hawai'i County at 961-8311.