MEDIA RELEASE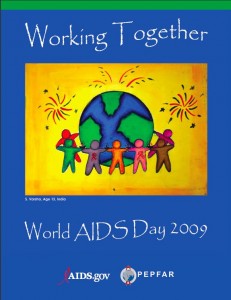 HONOLULU – On Tuesday, December 1, the Hawai'i State Department of Health (DOH) will be collaborating with volunteers, community agencies, and AIDS services organizations to observe annual World AIDS Day. Special events are scheduled statewide in recognition of this worldwide awareness day that focuses on the HIV pandemic.
On O'ahu, a special event at St. Clement's Church (1515 Wilder Avenue, Honolulu) is scheduled at 6:30 p.m. The event will feature performances by the Honolulu Men's Chorus and by the Kananiokeakua School of Hula. It will also feature the musical styling of KUPAOA. The 5th Annual Suzanne Richmond Crum Award will be presented to someone from the community who has greatly contributed to HIV/AIDS services in the state. In addition, the winning entry from the World AIDS Day Hawai'i Youth Leadership Challenge, a statewide art, poetry, and writing contest for youth ages 13 to 24, will be displayed.
"World AIDS Day is the only international day of coordinated action to address the HIV epidemic," said Peter Whiticar, chief, STD/AIDS Prevention Branch for the DOH. "It is an opportunity for residents of Hawai'i to learn how the epidemic affects not only people living in countries abroad hardest hit by this disease, but also how our friends, neighbors and co-workers right here in Hawai'i are impacted."
A variety of events are planned statewide on December 1 to recognize World AIDS Day. The Hawai`i Island HIV/AIDS Foundation (HIHAF) will be hosting a Memorial Service at 5:00 p.m. in Hilo, at Liliuokalani Park, Sumo Ring. In Kona, Living Positive in Hawai'i, a photo exhibit of HIV positive individuals in Hawai'i, will be displayed at Kona Hospital, Kohala Hospital, and the Hospice of Kona.
Artwork from the teen poster contest held in honor of Asian and Pacific Islander Awareness Day will be on display at the Kailua-Kona Library from November 24 through December 4. For more information on these events, contact HIHAF at (808)982-8800.
On Kaua'i, Malama Pono is offering extended hours of rapid HIV testing until 7:00 p.m. at their location in Lihu'e and in Kapa'a at the DOH testing site. Call (808)246-9577 for more information.
For information on events planned on Maui, call the Maui AIDS Foundation at: (808)242-4900.
Each year, World AIDS Day strengthens global efforts to address the challenges presented by the HIV/AIDS pandemic around the world. Since 1988, December 1 has been a day of compassion, hope, solidarity and understanding about HIV/AIDS. World AIDS Day is the only worldwide effort to focus on the HIV epidemic. It is an opportunity for residents of Hawai'i to learn how the HIV/AIDS epidemic affects people in the islands as well as those around the world. People infected and affected by HIV/AIDS as well as the public and the media are urged to attend scheduled events.
For more on World AIDS Day in Hawai'i, go to: www.worldaidsdayhawaii.org or contact Paul Davis at the STD/AIDS Prevention Branch of the Hawai'i Department of Health at: (808)733-9010.