Media releases compiled by Karin Stanton/Hawaii247.com Contributing Editor
The World Health Organization, which is coordinating the global response to human cases of H1N1 Flu and monitoring the corresponding threat of an influenza pandemic, reported early Saturday, May 2 that the situation continues to evolve. 
The latest WHO update notes 15 countries have officially reported 615 cases of influenza A (or H1N1) infection.
Mexico has reported 397 confirmed human cases of infection, including 16 deaths. The 241 rise in cases from Mexico compared to May 1 reflects ongoing testing of previously collected specimens.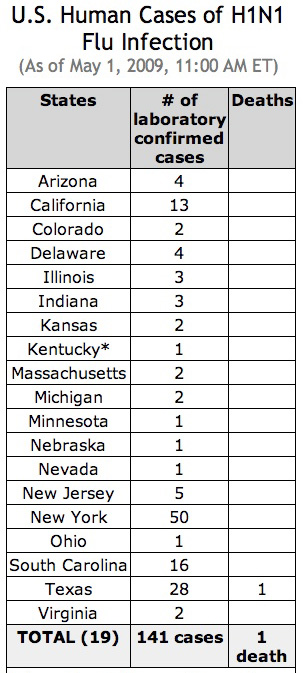 The United States has reported 141 laboratory confirmed human cases, including one death. Hawaii officials say no cases have been identified in the state.
The following countries have reported laboratory confirmed cases with no deaths – Austria (1), Canada (34), China, Hong Kong Special Administrative Region (1), Denmark (1), France (1), Germany (4), Israel (2), Netherlands (1), New Zealand (4), Republic of Korea (1), Spain (13), Switzerland (1) and the United Kingdom (13).
WHO advises no restriction of regular travel or closure of borders, but does urge people who are ill to delay international travel and for people developing symptoms following international travel to seek medical attention, in line with guidance from national authorities. 
There is also no risk of infection from this virus from consumption of well-cooked pork and pork products. Individuals are advised to wash hands thoroughly with soap and water on a regular basis and should seek medical attention if they develop any symptoms of influenza-like illness.
Meanwhile the federal Centers for Disease Control continues to take aggressive action to respond to the expanding outbreak. 
CDC's response goals are to reduce transmission and illness severity, and provide information to help health care providers, public health officials and the public address the challenges posed by this emergency.
Supplies from CDC's Division of the Strategic National Stockpile (SNS) are being sent to all 50 states and U.S. territories to help them respond to the outbreak. 
Hawaii currently has 172,000 courses of anti-viral on Oahu, with an additional 46,000 en route to Hawaii from the Center for Disease Control. In addition, next week, the state will begin receiving influenza test kits, while the federal government and manufacturers have begun the process of developing a vaccine against this new virus.
In Hawaii, state officials and their partners implemented precautionary measures to protect residents and visitors against the H1N1 influenza. While there have been no cases of the virus in Hawaii, Gov. Linda Lingle and Hawaii health officials are encouraging residents to develop a plan for preparedness.
State agencies are leading coordinated efforts with federal, county and private sector partners to protect residents and visitors.
"Over the last week, I've been impressed with the collaboration – military, civilian, federal, state, local, public, private and the hospitals – just how everyone has come together for a common cause," said Honolulu International Airport Medical Director Dr. James Ireland. "I couldn't be happier with the team that has come together as we've been successful in keeping this influenza out of Hawaii."
The state Department of Health has set up a toll-free H1N1 information line at (866) 767-5044 ext. 3.  
The information line is staffed by trained professionals who will answer questions from Monday through Friday from 7 a.m. to 7 p.m., and on weekends from 9 a.m. to 5:30 p.m.
This week, state Epidemiologist Dr. Sarah Park said that because no cases have been reported in the state, Hawaii residents have been given the gift of time to prepare.
"Now is a time for us to get our house in order," she said, recommending that families develop a preparedness plan in the event of an emergency that requires them to stay at home for several days. She also noted it is a good time to be prepared at home by having food, water, cash and other necessities available in the event they are needed.
— Find out more:
Hawaii Department of Health: www.hawaii.gov/doh
Office of the Governor: www.hawaii.gov/gov
Centers for Disease Control: www.cdc.gov/h1n1flu/general_in…
World Health Organization: www.who.int/csr/disease/swineflu/en/index.html