Karin Stanton/Hawaii247.com Contributing Editor
U.S. Congressman Neil Abercrombie said if he is to win the Democrat slot in the race for governor in 2010, it will be due to neighbor island voters.
The 10-term congressman made stops Monday in Kona and Waiakea after the weekend announcement that he wants to come home to Hawaii – or more specifically to the governor's residence of Washington Place.
"This is not a stepping stone for me," Abercrombie told about three dozen supporters gathered Monday morning at Old Kona Airport. "This is cornerstone of the future of Hawaii. I'm not running for anything. We're running."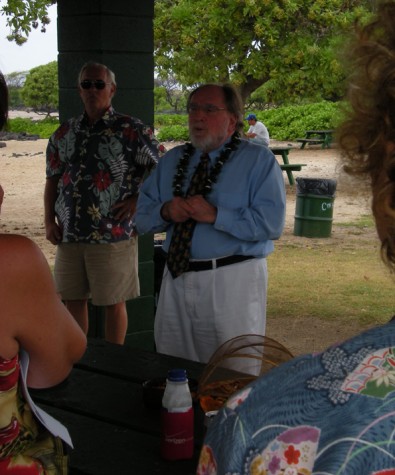 He said he was pleased with the response he received during visits Sunday to Maui and Kauai, and that support will be critical if he is to carry the Democratic nomination into the 2010 general election. 
"This nomination will be won on the neighbor islands," he said.
Abercrombie is the first Democrat to announce his candidacy. Others considering a run include former congressman and Big Island native Ed Case, Honolulu Mayor Mufi Hannemann and state Sen. Colleen Hanabusa.
Lt. Gov. James "Duke" Aiona is the lone Republican candidate to date.
Reaching out to the neighbor island populations is getting easier with the increased use of the Internet and wireless communication, Abercrombie said.
He said he was encouraged by President Barack Obama's campaign, which relied more heavily on the Internet, social networking and online video than any previous race.
"We're going to unite the islands in the movement," he said. "We are going to create our own community."
Abercrombie said he realizes it is early to jump into the 2010 race, but he wants to make sure Hawaii is ready to take advantage of what he predicts will be Democratic rule – from the White House to the U.S. Senate to the U.S. House of Representatives.
He said he believes the economy will take until at least 2010 to fully recover and a state Democratic leadership will be best able to manage Hawaii's future.
"A recession always hits the mainland before it hits us and it's on its way," he said. "We already have a high cost of living and it really can hurt people. This recovery, we need more. We need to be moving faster. 2010 will be the bellweather for this." 
He also is eager to capitalize on the positive energy of the 2008 presidential race.
"We've set the agenda nationally and need to set the agenda for the state," he said. "I have no interest in a personal political agenda."
Abercrombie said he hoped his supporters at this early stage would get informed, get involved and consider serving as precinct captains.
"It's going to take everyone here," he said. "This is Iowa for us."
Already, though, he has identified four priorities for his campaign:  economic recovery; a safe, clean environment; energy independence; and quality education.
He also spoke of the importance of protecting and promoting the Hawaii brand – from Maui onions to Kona coffee.
Addressing a coffee farmer, he said, " you're one of my heroes."
Abercrombie said the state should support farmers and the agricultural industry.
"The Hawaii brand is worldwide. We've already got the goodwill from everyone," he said, and the state should be doing everything it can to promote, market and protect it.
Abercrombie said he realizes much can change, priorities can shift and issues can materialize during his candidacy, but he is ready.
"It just reminds me you think you know what challenges you are facing, but fate and circumstances can change that," he said.
He left his Kona supporters with something to mull in the many, many months before the September 2010 primary election.
"When you think about who's going to sit in the governor's chair, think alphabetically," he said.
Abercrombie also met Monday with members of the media before his campaign kick off in Hilo. About 25 people showed up Monday afternoon at the Waiakea event.
The congressman said he was returning to Washington, D.C. late Monday.
— Find out more:
Neil Abercrombie: www.neilabercrombie.com