Karin Stanton/Hawaii247.com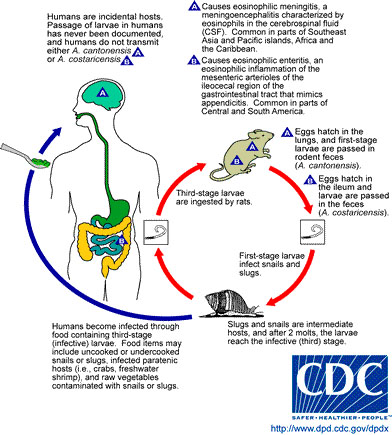 The state Department of Health now is advising Big Island residents to wash produce thoroughly to help prevent exposure to pesticides, bacteria, and parasites such as angiostrongylus, or rat lung worm, which has sickened at least six people.  
The DOH reports it has identified one-half dozen probable cases of illness caused by angiostongylus in 2008, including two that have resulted in comas. The cases are centered in and around the Puna district and have been traced to eating fresh raw vegetables from backyard gardens.
A USDA report in 2007 found the culprit – a semi-slug known as Parmarion martensi – across the eastern part of the Big Island and Kailua-Kona. More than 3/4 were infected with the rat lung worm parasite.
The Angiostrongylus cantonensis parasite can cause a rare form of meningitis called eosinophilic meningitis or angiostrongyliasis. The condition is also referred to as "rat lung worm" because rats are part of the life cycle of the parasite.  
The parasite is found in snails, slugs, and freshwater prawns, crabs fish, and possibly the flatworm in Hawaii. Eating uncooked snails, slugs, freshwater prawns and fish can cause the rare infection, which can lead to serious illness.  
"It's important to always wash raw vegetables and fruits thoroughly before eating them to remove insects, parasites, bacteria and other possibly harmful contaminants," said Dr. Sarah Park, DOH State Epidemiologist and Chief of the Disease Outbreak Control Division. 
Signs of rat lung worm disease, which can affect the brain and spinal cord as the larvae travel through those tissues, can include severe headaches, nausea, vomiting, neck stiffness, and back, tingling skin, and hallucinations. Some infected people don't have exhibit symptoms, or experience mild symptoms for a short time. 
Most patients recover without treatment, however anyone who believes they may be suffering from angiostrongyliasis is urged to seek medical attention.
To prevent infection:
* Do not eat raw or undercooked snails or slugs. Handle snails or slugs while wearing gloves and wash hands thoroughly.
* Do not eat raw foods contaminated with snails or slugs. Boil snails, prawns, fish, and crabs for at least 3-5 minutes.
* Keep home gardens free of rodents, snails and slugs.
* Wash produce thoroughly. 
A 2007 study published in the journal Pacific Science reported "a new species of semi-slug was discovered on the island of Hawaii in 2004. The species has been tentatively identified as Parmarion martensi. This species is very common in some areas of eastern Hawaii island, and it may be out-competing the Cuban slug, Veronicella cubensis, which is usually the most common large slug species on the island at lower elevations. A survey in the summer of 2005 showed that semi-slugs are present primarily at lower elevations in the Puna area of Hawaii island. We found an isolated population in Kailua-Kona."
The same type of semi-slug was first discovered on Oahu in 1996.
The study's authors, including Hilo-based research biologist Robert G. Hollingsworth, found 77.5 percent of semi-slugs collected at survey sites were infected with A. cantonensis, compared to 24.3 percent for Cuban slugs sampled from the same areas.  
The probability that semi-slugs will transmit rat lung worm disease to humans may be higher than for other slug and snail species because a high percentage of semi-slugs are infected, and the habits of semi-slugs increase the chance of contact with humans, the researchers concluded.
— Find out more:
Marlena Dixon, communicable disease specialist, DOH East Hawaii District Health Office: 933-0912 
DOH West Hawaii District Health Office: 322-4877
Dr. Jacqueline Hahn (ND), Hilo Naturopathic Clinic: 969-7848 
Centers for Disease Control and Prevention: www.dpd.cdc.gov/DPDx/HTML/Angi…
USDA Agricultural Research Service: www.ars.usda.gov/research/publ…